3 Days to Kill (2014)
3/5
USA; McG

Parental Guidance – Violence; Infrequent Language

Ageing international spy Ethan Renner (Kevin Costner) finds out during a mission that he is gravely sick and is therefore immediately discarded by his employers as inapt for service. With three more months to live, he goes to Paris, where his estranged wife and daughter reside, and tries to bond with them. Only that Renner, despite his weakness, is still a most useful man for the CIA, especially that he is the only one to have seen The Wolf, a ruthless scheming terrorist. To lure him for a last job, they offer him nothing less than his life back.
Scripted by Luc Besson, this conventional actioner and crowd-pleaser treads unapologetically in Taken's footsteps and certainly does nothing to hide the fact. But we might trace the roots of the project back to the days of La Femme Nikita (1990), Besson's first big venture into the spy genre. Now, all the desperation, moral violence and twisted, uneasy morals are gone, and the viewer is left with an often annoyingly simplistic and easy to digest take on one badass' fight against evil. The body count effortlessly equals any 007 movie, but without the panache and flamboyance. The action beats are decent, but unremarkable. Despite the Parisian setting, the atmosphere is non-existent. Even when shoot is lurid, eye-catching spaces, the film feels like a tourist vignette. 
However, if the movie is seriously injured by these shortcomings, there are redeeming qualities that make it ultimately rather palatable. Costner is credible and sympathetic, albeit his character lack of depth. Amber Heard steals the show with an eerie, kinky turn. The screenplay, though, has been particularly rough on her: she is given barely a couple of lines (among which a verbal fight with Costner about facial hair) that truly register. The others are barked orders and plot briefings. Yet, even if this uncanny mutant living almost in a parallel universe is fun, and Heard works hard to lend her humanity and even warmth, it remains a disappointingly shallow character. In a less strident note, Hailee Steinfeld is also moving and believable, despite the cartload of clichés that come with her "edgy teen" role.
The humor is a good move, but Besson crossed the fine line between peppering the film with comedy and going down the road of full-blown caricature. It should be said form the start that Besson never excelled in satire. 3 Days to Kill is not a satire, despite the daftness and pervading sense of levity. That being said it is neither totally straight-faced. The middle ground favored by Besson and McG is however wobbly, dangerous territory. The lightheartedness kills the thrills, the solemnity burdens the loughs.
3 Days to Kill is a decent movie, but…there is always a "but". Worth seeing, worth forgetting.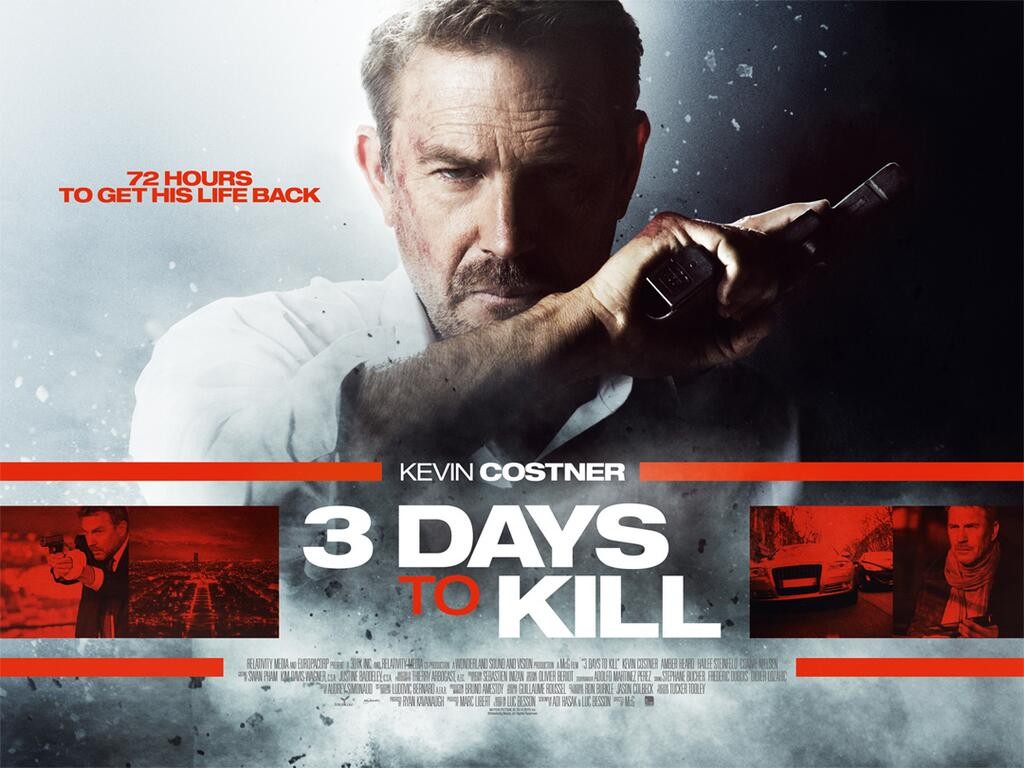 Add a comment